Plenty of pleaders for rich and poor, but no politician speaks for the common man.
by Victor Davis Hanson // National Review Online
Occupy Wall Streeters claimed that they were populists. Their ideological opposites, the Tea Partiers, said they were, too. Both became polarizing. And so far populism, whether on the right or left, does not seem to have made inroads with the traditional Republican and Democrat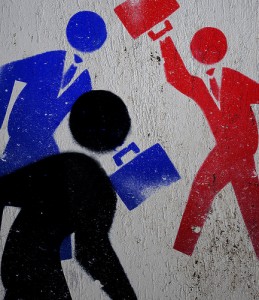 establishments.
Gas has gone up about $2 a gallon since Barack Obama took office. Given average yearly rates of national consumption, that increase alone translates into an extra $1 trillion that American drivers have collectively paid in higher fuel costs over the last 54 months.
Such a crushing burden on the cash-strapped commuter class is rarely cited in the liberal fixation on cap-and-trade, wind and solar subsidies, and the supposed dangers of fracking.
When the president scaled back the number of new gas and oil leases on federal lands over time, or warned that "under my plan of a cap-and-trade system, electricity rates would necessarily skyrocket," he was appealing to his boutique base — not to those who can scarcely meet their monthly heating and cooling bills.
Should there not be an opening for a conservative populist response?
Unfortunately, pro-drilling conservatives sound more like spokesmen for oil companies than grassroots champions for strapped motorists.
Total student debt is approaching $1 trillion. That is an unsustainable burden for recent graduates under 25 facing an adjusted youth unemployment rate of over 20 percent.
Yet the well-off are more interested in ensuring that their children get into tony, name-brand colleges than in fretting about how to pay for it — a fact well known to our price-gouging universities.
On the other end, need- and ethnicity-based scholarships and waivers have made college more affordable for the poor than it is for the middle classes. The parents of the latter make enough to be disqualified from most government help, but not enough to afford soaring tuition.
Top-heavy universities assume that there will always be more income from the subsidized poor and the rich. Again, middle-class students are caught up a creek without the paddles of wealthy parents or a generous government.
There is also a populist argument to be made against the farm bill.
There are more than 48 million Americans on food stamps, an increase of about 12 million since the beginning of the Obama presidency.
At a time of record-high crop prices, the U.S. government still helps well-off farmers with some $20 billion in annual crop payouts and indirect subsidies.
The Left mythicizes food-stamp recipients almost as if they all must be the Cratchits of Dickensian England.
The Right romanticizes corporate agriculture as if the growers all were hardscrabble family farmers in need of a little boost to get through another tough harvest.
Those in between, who pay federal income taxes and are not on food stamps, lack the empathy of the poor and the clout of the rich. Can't a politician say that?
Illegal immigration is likewise not a Left vs. Right or Republican vs. Democrat issue, but instead mostly one of class.
The influx of millions of illegal immigrants has ensured corporate America access to cheap labor while offering a growing constituency for political and academic elites.
Yet the earning power of poorer American workers — especially African Americans and Hispanic Americans — has stagnated.
The common bond between the agendas of La Raza activists and the corporate world is apparently a relative lack of concern for the welfare of entry-level laborers, many of them in American inner cities, who are competing against millions of illegal workers.
Given the slow-growth, high-unemployment economy, and the policies of the Federal Reserve, interest on simple passbook accounts has all but vanished.
The poor are not so affected. They are more often borrowers than lenders, and they are sometime beneficiaries of federally subsidized debt relief.
The rich have the capital and connections to find more profitable investments in real estate or the stock market that make them immune from pedestrian, underperforming savings accounts.
In other words, this administration's loose money policy has been good for the indebted and even better for the stock-invested rich. But it is absolutely lousy for the middle class and for strapped retirees with a few dollars in conservative passbook accounts.
The aftermath of the 2008 financial meltdown followed the same script. The crisis arose from a strange connivance between loans to the unqualified and huge profits for Wall Street. Its remedy was to have the lowly taxpayer pick up the walk-away debt of the former while offering bailouts for the latter.
Polls show the president's approval numbers are tanking. Congress can hardly become any more unpopular. Maybe one reason is that neither seems to care much about those who are not rich and not poor.
America has plenty of community organizers and agitators, and even more smooth corporate lobbyists, but populist politicians disappeared long ago.
NRO contributor Victor Davis Hanson is a senior fellow at the Hoover Institution. His The Savior Generals is just out from Bloomsbury Books. © 2013 Tribune Media Services, Inc.