by Victor Davis Hanson // NRO- The Corner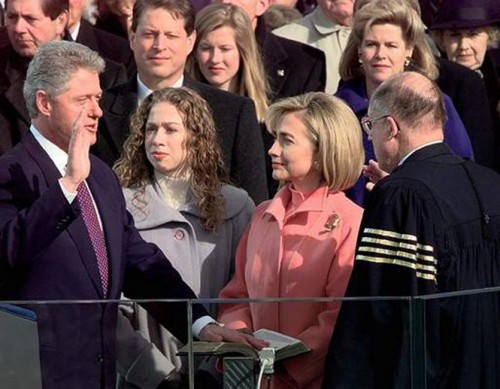 In July 2008 Todd Purdum wrote a devastating and controversial take-down of Bill Clinton for Vanity Fair, outlining the sort of ethical and personal lapses that are back in the news seven years later. The Left largely welcomed the exposé because it came at the expense of a tiring Hillary Clinton primary campaign — and to the benefit of an ascendant Barack Obama. Indeed, the essay at the time was felt to have repelled a number of Democrats. Now, of course, Peter Schweitzer's similar assessment wins no such accolades, since there is no one comparable to Obama as a preferable alternative to Hillary. Still, Purdue's insights today read uncannily prescient, and raised issues that were never addressed and quickly forgotten once Hillary faded from the primaries — and so went unanswered over the next few years, almost if the Clintons assumed the one-time mention of them was synonymous with their resolution.
Here are just a few of the familiar disturbing items that Purdum noted in 2008:
Whatever the facts of Clinton's personal life, it is beyond dispute that he has associated with some decidedly unpresidential company. In 2002, Clinton flew to Africa with the New York investor Jeffrey Epstein on his private Boeing 727 on an anti-aids and economic-development mission. (Others on the mission included Kevin Spacey and the comedian Chris Tucker.) In 2006, Epstein was indicted on state charges of soliciting prostitution in Palm Beach, Florida, and he later came under investigation by federal authorities amid allegations that he hired under-age girls for massages and more in a house stocked with sex toys and genitalia-shaped soaps. He remains the subject of at least four pending civil lawsuits from young women and is reportedly expected to accept a plea deal on a state charge that would give him 18 months in prison, followed by house arrest, in lieu of a trial now set to begin this month.
And . . .
But Clinton's business relationship with [California billionaire investor Ron] Burkle is far and away his largest source of income after books and speeches: $15.4 million between 2003 and 2007, according to the Clintons' recently released tax returns. That amounts to about 20 percent of all the income that Clinton earned in those years. Until the release of the tax returns this year, Hillary Clinton's Senate financial-disclosure forms had revealed only that Clinton earned "more than $1,000" a year from his partnerships with Burkle.

Burkle is perhaps the single best example of the self-reinforcing network of rich personal, charitable, political, and business supporters Clinton has built since his White House years. For Clinton's re-election campaign Burkle held regular fund-raisers at Green Acres, his sprawling estate in Beverly Hills, which once belonged to the silent-film star Harold Lloyd, and Burkle has also raised millions of dollars for Hillary Clinton's campaigns. What has Clinton done in return? Burkle himself has said that Clinton has provided invaluable introductions and entrée to potential investors, including the Teamsters union. (A spokesman for Burkle's companies did not return repeated telephone calls seeking comment.) When the tax returns were made public this spring, Jay Carson issued a statement saying that "the president provides his best advice on potential investments, advocates generally on behalf of the funds, and seeks to create opportunities for investors to consider investing in these funds or in the investments the funds make."
And . . .
But it is also beyond dispute that Clinton has blended the altruistic efforts of his philanthropy with the private business interests of some of his biggest donors in ways that are surpassingly sloppy, if not unseemly, for any former president. A case in point is Clinton's relationship with Ukraine's Victor Pinchuk, a billionaire and philanthropist who has donated millions to the ex-president's foundation. According to Newsweek, in 2007, at a Pinchuk-sponsored international conference in Yalta, Clinton wowed the crowd with a presentation on Ukraine but also sparked controversy when he was embraced by Pinchuk's father-in-law, the country's former president Leonid Kuchma. Kuchma's repressive regime has been linked by a government investigation to the 2000 murder of a dissident Ukrainian journalist. The man was found decapitated — one of scores of journalists who have been killed or have disappeared in Ukraine since the country achieved independence, in 1991.
And . . .
Even more troubling is Clinton's relationship with the Canadian mining magnate Frank Giustra. This winter, a lengthy investigative report in The New York Times disclosed that, in 2005, Clinton flew to the Central Asian country of Kazakhstan on Giustra's MD-87 jet for what was billed as a philanthropic three-country tour. The two men had dinner with President Nursultan Nazarbayev, who has held the country in a vise-like grip for nearly two decades. At their meeting, Clinton expressed support for Nazarbayev's bid to head the Organization for Security and Co-operation in Europe, which monitors elections and promotes democracy. That position was sharply at odds with official American foreign policy and came in the face of stinging criticism of Kazakhstan's record on human rights from many sources, including the junior senator from New York, Hillary Rodham Clinton. Within two days, Giustra's company signed preliminary agreements allowing it to buy into three uranium projects controlled by Kazakhstan's state-owned uranium agency. And months after that the Clinton Foundation received a $31.3 million donation from Giustra that remained secret until a Giustra representative acknowledged it late last year. (Giustra has separately pledged another $100 million to the foundation.)