by Victor Davis Hanson // PJMedia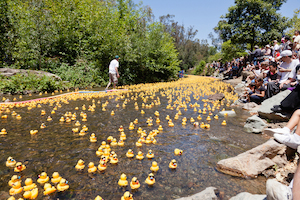 The third year of California drought has exposed all sorts of water fantasies. If in wet years they were implicit, now without rain or snow for nearly three years, they are all too explicit. Add them up.
Take the Bay Area, Ground Zero of water environmentalism. From Mill Valley to San Jose is where most of the green activists are based who have demanded, even as the snowfalls and rains ceased, that reservoir storage waters be diverted to the sea to encourage the resurgence of the delta smelt and river salmon. The Bay Area's various earlier lobbying groups long ago helped to cancel the final phases of the California State Water Project and the Central Valley Project, and now talk about reducing world carbon emissions rather than building more storage capacity to solve California's water crisis.
How odd that is — given that the San Francisco greater community has almost no aquifer to supply its millions. Environmentalists count instead solely on vast water transfers from the far distant Hetch Hetchy reservoir to supply the nearly three million water users of the Bay Area with their daily showers and lawn irrigations.
The brilliantly engineered project supposedly had ruined a Yosemite Park valley greater than its more famous counterpart below Half Dome and El Capitan. Odder still, the Hetch Hetchy conduits run right across the San Joaquin River that environmentalists are intent on supplying with reservoir water long ago designed for irrigated agriculture. When most Bay Area drivers cruise along the I-280 by the full-to-the-brim Crystal Springs Reservoir they have not a clue that the lake would be little more than a muddy slough of scant local runoff, without the importation of thousands of acre-feet of clean water from the Hetch Hetchy project. Nor do they grasp the greater irony that they have reservoir water to divert to fish only because someone else built the reservoirs that they near automatically oppose. Consider the logic: don't dare build an unnatural reservoir to irrigate food lands; but if you dare build it over my opposition, I want the ensuing banked water to ensure the rivers run year-round for my fish projects — given that before your artificial reservoirs the rivers sometimes had a bad natural habit of running dry and suffocating my fish.
Could not Bay Area professors, journalists and politicians shower once a week or let their garden foliage die on the greater sacrificial altar of diverting Hetch Hetchy water into the San Joaquin River to save the smelt or facilitate salmon runs? After all, at least farmers can claim they are producing food for the masses with reservoir water. But what do Facebook and Apple techies claim — that without a verdant garden they cannot design social networking? In 1990 there was no Facebook or Google and people continued to live; without food they cannot at any time.
A larger point is that 70% of Californians prefer to live in places like the naturally arid seaside resorts of San Diego, Santa Monica, Malibu, Santa Barbara, San Luis Obispo, Monterey, Carmel, Santa Cruz, and the Bay Area, coastal communities whose growth long ago both outpaced the local aquifers and Coast Range small reservoirs, and thus required water transfers from wetter environs.
If greens were going to match their advocacy with concrete action, they would move from Santa Cruz or Mill Valley to Eureka or Yuba City where the rain falls — or at least inward to Fresno and Visalia where for eons runoff from the nearby Sierra has created a vast aquifer of easily accessible and clean ground water. Barring that, Menlo Park could shower on "smelt-free Mondays," while Palo Alto could restore the salmon by paving over its lawns. In an honest world, we would admit that the Madera resident is far more ecologically attuned to his environment than is the Presidio Heights grandee or UC professor ensconced in the dry Berkeley Hills. The former at least chooses to live atop an aquifer, the latter assumes someone else had long ago found a way to import him his nightly shower from far across the state and at far greater cost.
In other words, the California coastal strip is an environmentally unwise place to locate millions of Californians; its swarms exist largely by water transfers from either Northern California or the Sierra Nevada mountains. And yet far too many of its inhabitants have a bad habit of pontificating about water usage for others.
Then we come to the matter of population. California is no longer the 15 million person state that once was adequately served by our forefathers' water-transfer projects. It is not even the 40 million person state that our ancestors warned could survive long droughts (but only if their descendants of course finish the state and federal water projects). It is instead a 40 million person state with a 20 million person system of reservoirs and canals. In that regard, California's population would long ago have stayed static, given the recent three decade exoduses of millions of residents tired of high income, sales, and gas taxes, and poor roads, schools, and law enforcement in return.
The great equalizer was illegal immigration. Millions of impoverished arrivals from Mexico and Latin America, since the latest and largest immigration wave of the last forty years, largely explain why the state continues to grow. Aside from the question of legality and whether such massive influxes were a wise or unwise occurrence, most can agree that our liberal establishment welcomed illegal immigration (along with agribusiness, construction industries, and hotels and restaurants), but without any commensurate desire to build the sort of infrastructure that would ensure such new Californians sufficient water — not to mention jobs in industries like irrigated agriculture, timber, gas and oil drilling, construction, and mining. Instead, the out-of-sight/out-of-mind liberal mindset welcomed millions of foreign nationals in, but then pursued an ever more exclusionary and mostly elite environmentalism that ensured a 40 million person state, but one without the water or employment opportunities to allow rough parity among its diverse residents.
The current drought is a product of nature, which has a bad periodic habit of withholding rain and snow over California, a natural occurring and long-recorded phenomenon that has nothing to do with global warming. We used to accept that fact and its corollary: most Californians preferred to live where there was the least amount of state rain and snow — and were willing to pay for the necessary infrastructure to make showering in Malibu or Monterey as natural as in Crescent City or Lake Tahoe. But as in most of California's existential crises — budgeting, infrastructure, pensions, immigration, education, law enforcement — the problem lies in its thin coastal corridor, a surreal place where liberal grandees assume that they are exempt from the chaotic ramifications of their own utopian ideologies.
California's real motto is "We think it up, you live it out."
Copyright © 2014 Works and Days. All rights reserved.