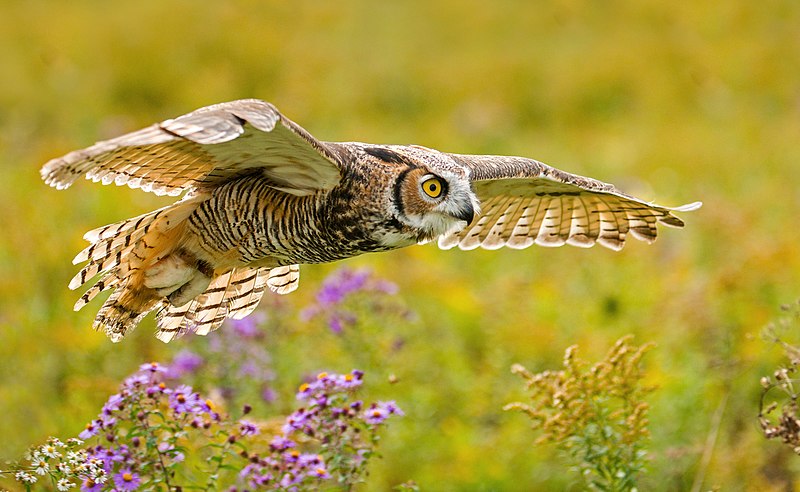 Part I. Enchanted Dangers
To a boy six or seven, great-horned owls proved terrifying. You would walk through the Santa Rosa plum orchard at dawn. Then suddenly this huge, hidden monster would spring out from a tree trunk and sweep through the row, about three feet off the ground, right on by you.
His six-foot wingspan quietly swished the tall orchard grass. We never knew whether our Rodan would pick all 50 pounds of us up (In our defense, we were raised on that terrifying scene of the Wicked Witch of the West's fleet of flying monkeys, snatching the heroes in the Wizard of Oz). And who knows, or so we wondered, if once he grabbed us by the scruff of the neck, he would then drop us from his nest in the cottonwood tree—in the manner a red-tailed hawk would sometimes swoop down and lift up a poor tiny turtle that came down the irrigation ditch into the pond, and then drop him from on high to shatter his shell. So, certainly, we did not want our 50-pound, six-year-old shells smashed by this three-pound bird of prey.
I always worshipped owls as a child. On, in, and around the barn, there were raised generations of white barn owls (sometimes called monkey owls due to their distinctive heads). The barn in 1960 was already nearly 90 years old. The weathered redwood planks had huge splits in them. The owls plunged their talons into these gaps and stayed mute. They blended in well enough with the whitewash. Then suddenly they would dive down to clear the barnyard of squirrels that lived under the slab. Or they would simply attach themselves aside the huge woodpecker holes and grab a young pigeon or dove on its first flight out from its nest on the inside wall.
But every once in a while, a poor owl would get his talons hopelessly stuck in the cracks. Because they hunted at dusk and night, we never saw the actual first moments of their entrapment. But when we woke up sometimes, we would see these majestic owls hanging dead upside-down from the outside barn wall. Often their heads and feathers were bloodied from what must have been a furious effort to batter free. I think in my lifetime I've found four or five of them like that, and I promised to put new barn siding on each time. But the 1870 siding is still there.
I also had a special affinity for possums (as I wrote especially after shooting a pregnant one). When I was six Delmas, a hired man who came from Oklahoma in the 1940s, would cobble together a long twenty-foot pole with a taped flashlight on the end. And then he would walk under the three pecan trees in search of possums that raided the eggs of the hen house below. When he found them, the light stunned them. And he easily "poled" them 25 feet to the ground where they spattered. He said of their lifeless corpses, "He's not playing his possum now." And "Don't worry, we'll send some possum down to your dad when we fix 'em up." I don't know who of us passed on the invitation, but I don't think to this day I've ever eaten possum.
Yet possums seemed harmless enough compare to the menageries of the dark grove (coming in Part Two).