In a racially diverse America, we have no discernible rules for what determines one's race.
by Victor Davis Hanson //
National Review Online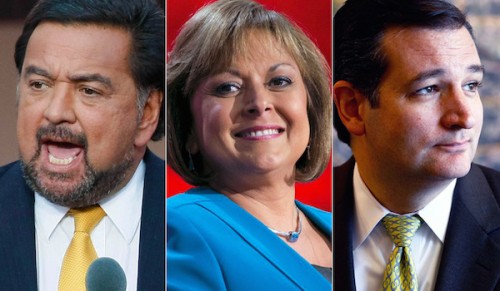 O
nce upon a time, the liberal position was to reject the old discriminatory branding of people by the color of their skins rather than by the content of their characters.
Not now. Political and career advantage is found in trumpeting — or occasionally making up — genealogies.
Take the inexact category of Latino or Hispanic — an often constructed identity that increasingly no one quite knows how to define. Almost anyone can be a Latino or Hispanic, from a fourth-generation American with one-quarter Mexican ancestry, to a first-generation Cuban, to a youth who recently arrived illegally from Central America, to someone whose great-grandparents emigrated from the Portuguese Azores.
What ties them together? Not necessarily appearance, their names, knowledge of Spanish, or proximity of their ancestral homelands.
New Mexico governor Susana Martinez is Latina — her parents were Mexican-American. But her now-desperate Democratic challenger for the governorship, Gary King, claims that Martinez "does not have a Latino heart." Apparently for King, a self-appointed genealogist, if you do not share his liberal agenda, then you are, de facto, not Latino.
Senate majority leader Harry Reid made a similar statement in 2010, when he defined ancestry by political ideology: "I don't know how anyone of Hispanic heritage could be a Republican, okay?"
Last year, former New Mexico governor Bill Richardson, a liberal who is of mixed Mexican and Spanish ancestry, claimed that Texas senator Ted Cruz, a conservative who is half-Cuban, should not "be defined as a Hispanic" because Cruz opposes comprehensive immigration reform.
But imagine if Richardson were conservative, had taken his mother's name, and went by Bill Marquez, and if Cruz were liberal, also took his mother's name, and went by Ted Wilson. Who would be the more authentic Hispanic/Latino?
The
New York Times
made up an absurd category for George Zimmerman, classifying him as a "white Hispanic" when it wished to gin up the Zimmerman–Trayvon Martin controversy along racial fault lines. But had Zimmerman taken his mother's last name, Mesa, or Latinized his first name to become Jorge Zimmerman, then the
New York Times
might have had more trouble pulling off its racial gymnastics.
After all, Zimmerman is as Hispanic as Barack Obama is African American. But the
Times
would not dare dub the president, who had a white mother and African father, a "white African American." In short, not only are racial bumper stickers sometimes cynical, but they are also hopelessly inexact.
In an ever more racially diverse society where intermarriage is routine and assimilation often rapid, we have no discernible rules for what determines one's race.
Is ethnic heritage certified by native-language fluency? If so, former San Antonio mayor Julian Castro, the new secretary of Housing and Urban Development and a rising star in the Democratic party, wouldn't qualify because he cannot speak fluent Spanish.
We still live under antiquated, 50-year-old ideas that grant some ethnic groups privileges over others. Because these racial rubrics can be advantageous for things like college admissions and employment, and because the idea of racial purity is becoming ever more problematic, fantasy becomes inevitable.
That is why the charlatan Ward Churchill, a noted activist, tried — and succeeded in — fabricating a Native American identity to land a job at the University of Colorado. Massachusetts senator Elizabeth Warren invented a Native American pedigree and so became Harvard Law School's first recognized Native American professor. When other elites hyphenate their last names and accentuate first names, they remind us that without such IDs, one might not otherwise learn — or care about — their particular racial pedigree.
But even if some can prove ethnically pure heritages, who gets an edge in racially mixed-up America and who does not — and why?
Will the tens of thousands of Central American children who recently crossed illegally into America soon be eligible for affirmative action? If so, on what grounds? That America welcomed, fed, clothed, and schooled those who were all but driven out from their oppressive Central American governments?
Will these newcomers soon be eligible for special consideration in a way that Syrian refugees who are scheduled to arrive legally to the United States will not?
In truth, the criterion for affirmative action is not superficial appearance. (Syrians are perhaps as much non-white in appearance as Central Americans.) It is not past discrimination. (Central American dictators have been as unkind as Syrian dictators.) Nor is it present prejudice. (Both groups are new to the United States and not past victims of American discrimination.)
Why continue with divisive racial self-identification?
Too many of our ethnic aristocrats and politicians benefit from a fossilized system of a past century that is now largely irrelevant in 21st-century America.
© 2014 Tribune Media Services, Inc.
Related