by Victor Davis Hanson // NRO's The Corner 
Each step to the present Ukrainian predicament was in and of itself hardly earth-shattering and was sort of framed by Obama's open-mic assurance to Medvedev to tell Vladimir that he would more flexible after the election.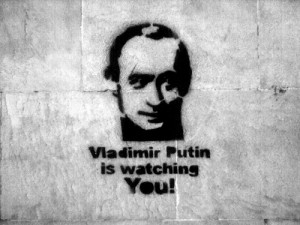 Indeed, Obama, as is his wont, always had mellifluous and sophistic arguments for why we had to take every soldier out of Iraq after the successful surge; why we needed to drop missile defense with the Poles and Czechs; why we needed both a surge and simultaneous deadline to end the surge in Afghanistan; why we first issued serial deadlines to Iran to ask them to please stop proliferation, then just quit the sanctions altogether just as they started to work; why we needed to "lead from behind" in Libya; why the Muslim Brotherhood was largely secular and legitimate and then later not so much so; why we issued redlines and bragged about Putin's "help" to eliminate WMD in Syria, and were going to bomb and then not bomb and then maybe bomb; why we kept pressuring Israel; why we cozied up to an increasingly dictatorial Turkey; why we reached out to Cuba and Venezuela; and why we sometimes embarrassed old allies like Britain, Canada, and Israel.
Amid such a landscape of deadlines begetting redlines begetting step-over lines always came the unfortunate pontificating — the Cairo mytho-history speech, the adolescent so-called apology tour, the sermon about "exceptionalism," — and also the dressing down delivered to a mute Obama by a pompous Daniel Ortega, the bows and hugs, and Obama's constant apologies for past American sins. Again all this was trivial — and yet in aggregate not so trivial for the lidless eye of a Putin.
Amid both the deeds and the facts came the serial $1 trillion annual deficits, the surge in borrowing for redistributionist payouts, the monetary expansion and zero-interest rates, and finally the vast cuts in the military budget, all of which fleshed out the caricature of a newly isolationist and self-indulgent America, eager to talk, bluster, or threaten its way out of its traditional postwar leadership role.
Again, each incident in and of itself was of little import. None were the stuff of crises. But incrementally all these tiny tesserae began forming a mosaic, fairly or not, of the Obama administration as either weak or clueless or perhaps both.
Accordingly, Mr. Putin, in empirical fashion, after factoring in the rhetoric and the facts, has decided that it is time, in the fashion of 1979–80, to move with probable impunity. Others are, of course, watching what Obama derides as Cold War chess games. Should Iran now go full bore on its nuclear program? Should China test Japanese waters and airspace a bit more aggressively? Should North Korea try to gain new concessions from its nuclear lunacy? Should the failed Communists of Latin America try forcibly exporting their miseries to neighbors? And all are operating on the shared assumption that the American reaction will be another "outrageous," "unacceptable," "don't cross this line," or another solemn Kerry lecture about the existential threats of global warming.
For some, like the now furrow-browed Europeans who once giddily lapped up the Victory Column pabulum, there is irony. For the Baltic states, Georgians, the Persian Gulf sheikdoms, the Japanese, the Taiwanese, and the South Koreans, there is increased anxiety about regional strains of Putanism spreading to their own backyards. And among our allies such as the British, Israelis, Canadians, and Australians, there is still polite bewilderment.
This will probably end in either two ways : Either Barack Obama will have his 1980 Jimmy Carter revelatory moment as something like an "Obama Doctrine," or we could see some pretty scary things in the next three years as regional thugs cash in their chips and begin readjusting the map in their areas of would-be influence.