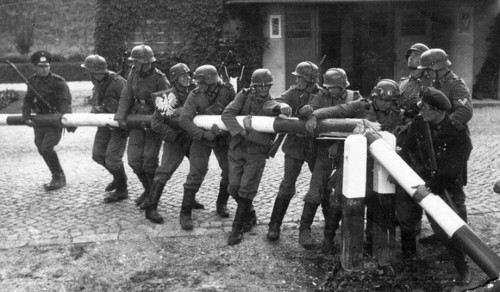 Adolf Hitler started World War II by attacking Poland on September 1, 1939. Nazi Germany moved only after it had already remilitarized the Rhineland, absorbed Austria, and dismantled Czechoslovakia. Before the outbreak of the war, Hitler's new Third Reich had created the largest German-speaking nation in European history.
Well before the attack on Pearl Harbor, the Imperial Japanese government had redrawn the map of Asia and the Pacific. Japan had occupied or annexed Indochina, Korea, Manchuria, and Taiwan, in addition to swaths of coastal China. Attacking Hawaii, the Philippines, Hong Kong, Malaysia, and Indonesia was merely the logical 1941 follow-up to more than a decade of Japanese aggression.
Fascist Italy, by the outbreak of World War II in Europe, had already been remaking the map of the Mediterranean region in imitation of ancient Rome. Strongman Benito Mussolini had annexed what is now Ethiopia, Albania, and most of Libya. He promised Italians that the Mediterranean would soon be mare nostrum, "our sea."
All of these hegemonies had arisen without triggering a global war. Had Hitler, Mussolini, and the Japanese just been satisfied and consolidated their winnings, there was no evidence that the tired Western democracies would ever have stopped them.
The contemporary world is starting to resemble the 1930s, and maps again must be redrawn.
The Islamic State plans to take Baghdad to make it the capital of a radical Sunni caliphate from what is left of Syria and Iraq.
Its enemy, theocratic Iran, is forging its own Shiite empire. Through its proxies, Iran now effectively runs much of Iraq, Lebanon, Syria, and Yemen. When Teheran gets a nuclear bomb, it will urge on Shiite minorities to overthrow the Sunni monarchies in the rich, oil-exporting Persian Gulf nations.
Russian president Vladimir Putin thinks he can reconstitute the empire of the czars and the later Soviet Union. American "reset" diplomacy green-lighted his annexation of the Crimea and his occupation of areas of Ukraine. Should Putin wish to absorb Estonia or other Baltic States, NATO probably would not stop him.
A terrified Eastern Europe, which not that long ago was part of the old Soviet Warsaw Pact, is already making the necessary political concessions in hopes that the unpredictable Putin leaves them alone.
China is vastly increasing its strategic air force and navy — and reminding its neighbors from South Korea to Australia of its new military clout. It has recently instigated various territorial disputes with Japan, Malaysia, the Philippines, Taiwan, and Vietnam. As a clever way to control key sea lanes and oil-rich areas in the South China Sea, the Chinese are building new military bases by turning small coral reefs into islands of sand.
Is this 1939 or 2015?
Well before World War II, Great Britain and France allowed Hitler, Mussolini, and the Japanese to acquire what they pleased. The Western European democracies were terrified of confrontation and mired in economic crises. They had their own long-standing empires to worry about.
The United States — struggling with the Great Depression, squabbling over the New Deal, and bitter over its prior intervention in World War I and the failure to achieve European stability — also kept quiet.
Nothing much has changed 75 years later. Western Europe is terrified of Putin and mostly disarmed. The European Union is awash with debt.
Meanwhile, Japan rearms and is trying in vain to forge a common anti-Chinese front with the Philippines, Taiwan, and South Korea.
As in the 1930s, an isolationist United States is again watching the new map unfold from the sidelines. President Obama assumes Americans are tired of the Middle East and want to be left alone. Afghanistan is a quagmire. Iraq collapsed once the administration pulled out all U.S. troops. The bombing of Libya proved a disaster.
In 1945, after some 60 million had perished in World War II, the Western democracies blamed themselves for having appeased and empowered fascist empires. That sadder but wiser generation taught us two lessons: Small sacrifices now can avoid catastrophic ones later on, and dictatorial regimes on a roll never voluntarily quit playing geostrategic poker.
If the present trajectories continue, a reconfigured Middle East will be bookended by radical Islamic empires — the Islamic State caliphate and a new Persian empire. China will control most of the Pacific and adjudicate trade, commerce, and politics west of Hawaii and to the south and east of India. The client states of a new Russian empire will border central Europe and be under constant pressure to leave the EU, NATO, or both.
How does all this end? One of two ways.
America and its allies can reawaken, gradually restore deterrence, and reestablish the old postwar order without a global war.
Or the United States will not be bothered — at least until this new generation of dictators bothers us at home.
© 2015 Tribune Media Services, Inc.