by Victor Davis Hanson // NRO's The Corner 
The president has compared the rollout disaster of Obamacare to temporary tech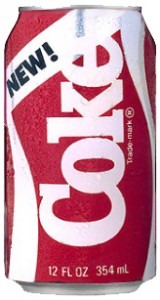 glitches with a new-model iPhone. But a better comparison is the disastrous 1985 campaign to replace Coca-Cola with "New Coke," a new sweeter formula that was supposed to stop Pepsi from gaining more market share. Despite hundreds of millions of dollars in slick ad campaigns, and all sorts of sales strategies, the public simply revolted at even the idea of the new formula, and a few years later, after all sorts of face-saving measures, the Edsel-like effort quietly was dropped.
The problem with Obamacare is that the few things the public liked — kids covered until 26 on their parents' plans, no coverage problems with preexisting medical conditions, etc. — were all front-loaded and still unpaid for; and all the things people will dislike — higher premiums, more taxes, bureaucratic red tape and incoherence, higher deductibles, higher costs to businesses, fewer doctors and less choices, more government borrowing to pay for the program, exemptions for pet constituencies, etc. — are all on the horizon. A host of further assumptions — that there are many millions of the uninsured who have no access to health care and will quickly sign up (rather than continue to prefer free federal and state walk-in/low-income clinics and emergency rooms), that young people in their twenties will feel a need to buy health insurance, that buying government coverage is smarter and cheaper than paying a penalty and buying it after you are hospitalized, that existing private plans and Medicare won't be harmed to subsidize it, etc. — remain still unproven.
Like New Coke, the more the public experiences Obamacare, the less it will like the taste.