The Soul of Battle: From Ancient Times to the Present Day, How Three Great Liberators Vanquished Tyranny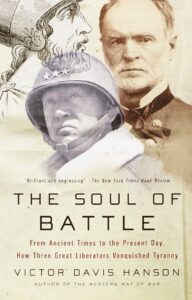 Victor Davis Hanson presents an audacious and controversial theory of what contributes to the success of military campaigns.
Examining in riveting detail the campaigns of three brilliant generals who led largely untrained forces to victory over tyrannical enemies, Hanson shows how the moral confidence with which these generals imbued their troops may have been as significant as any military strategy they utilized. Theban general Epaminondas marched an army of farmers two hundred miles to defeat their Spartan overlords and forever change the complexion of Ancient Greece. William Tecumseh Sherman led his motley army across the South, ravaging the landscape and demoralizing the citizens in the defense of right. And George S. Patton commanded the recently formed Third Army against the German forces in the West, nearly completing the task before his superiors called a halt. Intelligent and dramatic, The Soul of Battle is narrative history at it's best and a work of great moral conviction.
"Most enjoyable…. [A] strong point of view and robust prose."
–The Wall Street Journal