The End of Sparta: A Novel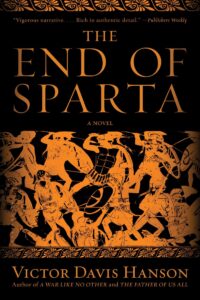 In this sweeping and deeply imagined historical novel, acclaimed classicist Victor Davis Hanson re-creates the battles of one of the greatest generals of ancient Greece, Epaminondas. At the Battle of Leuktra, his Thebans crushed the fearsome army of Sparta that had enslaved its neighbors for two centuries.
We follow these epic historical events through the eyes of Mêlon, a farmer who has left his fields to serve with Epaminondas-swept up, against his better judgment, in the fever to spread democracy even as he yearns to return to his pastoral hillside.
With a scholar's depth of knowledge and a novelist's vivid imagination, Hanson re-creates the ancient world down to its intimate details-from the weight of a spear in a soldier's hand to the peculiar camaraderie of a slave and master who go into battle side by side. The End of Sparta is a stirring drama and a rich, absorbing reading experience.
"Hanson's considerable intellectual skills are on display throughout this work. … The complexities of politics and society are explored brilliantly here, without weighing down the narrative. The characters are by turns sympathetic and cruel, and entirely believable."
—Deseret News
"Given [Hanson's] notable body of work, it's no wonder that his first fiction effort is rich in authentic detail and narrated with a confident authorial voice. His vigorous narrative not only offers insight into arms and armor, but also into the hearts of the men who bore them."
—Publishers Weekly
"A worthy historical re-creation: Hanson has high-minded purposes in depicting the triumph of democracy over dictatorship, but there's plenty of exciting swordplay, too."
—Kirkus
"Like Victor Davis Hanson, I have a fondness for the much-abused ancient Greek Thebans, and I entirely share his glowing admiration for Epaminondas of Thebes, Sparta's nemesis and the supreme philosopher-general of all antiquity. In The End of Sparta, his debut novel, the remarkable classical historian Victor Hanson does full and equal justice to both the arms and the man."
—P.A. Cartledge, A.G. Leventis Professor of Greek Culture, University of Cambridge