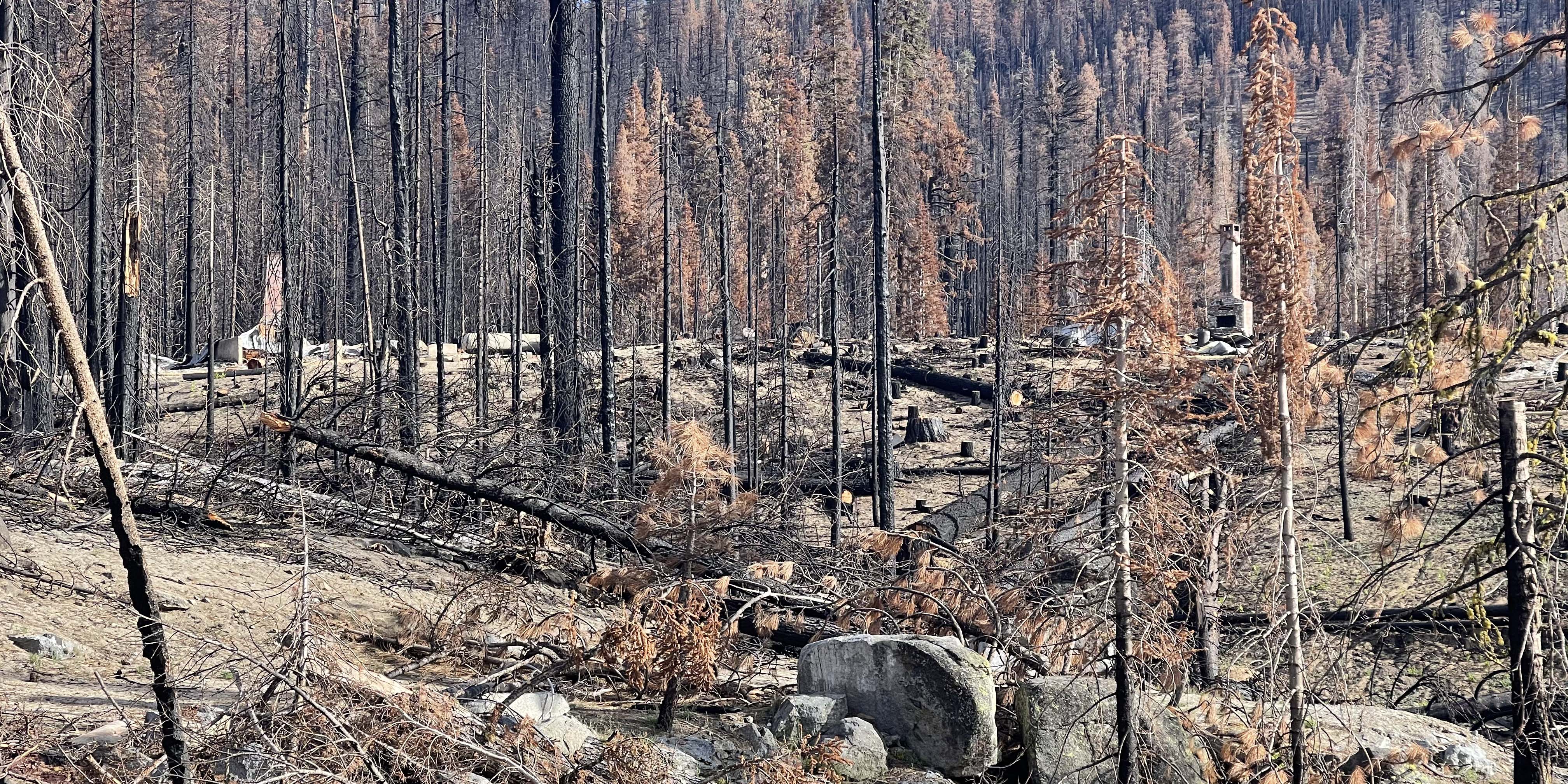 Victor Davis Hanson // Private Papers
Two weeks ago, I drove up Route 168 to Huntington Lake, sometimes known as Lakeshore, California. 
I had not been there since winter. I have a small house up there, at nearly ground zero of the "Creek Fire" (September to December 2020) that devoured much of the central Sierra National Forest. The house, along with those of my neighbors, should have been engulfed with the other tragic destruction of 900 or so other cabins and structures over a vast area. But it was due to heroic efforts of the local and state Fire service frontline fighters and employees, some of whom drove their dozers into the flames and made a huge firebreak around the market, restaurant, marina—and our houses—near the lake. When I fly on American or United from Fresno to Dallas or Denver, the entire four-month-long, 400,000-acre black swath of destruction is visible from high above. The fire suppression cost was nearly $200 million alone. No one knows the cost of all the lost property, equipment and infrastructure—and probably never will.
So once there I wasn't expecting to see much life as we knew it recovering, much less in full swing. The drive up to Shaver Lake, and between Shaver Laker and around Huntington Lake, was haunting, Dantesque, something out of the Inferno. Black ground, black stumps, burned everything: A chimney of a destroyed cabin there, the shell of an incinerated water tank here. 
Even more surreal were the new road "vistas" of hundreds of square miles of nuked-out forest. What were once green and lush stands of fir, pine, and cedar that blocked all views from the shady road, were now ash, revealing an open view for miles, albeit an ugly and frightening one. 
No strip lumber cutting, no carbon emissions bomb, no Curtis Lemay with his B-29s could have inflicted such damage to the environment, whether calibrated by the polluting clouds of soot over the central valley for months in 2020, or the genocide of wildlife, or the sheer destruction of human capital and labor.
When I arrived at the house, it still months after the fire smelled of soot and ash. I went up on the roof and found lots of overheated shingles that were warped and tried to fix them. And yet, in the immediate vicinity life had certainly survived. There were squirrels on the deck. Ravens in the trees. Coyotes in the brush. 
I thought the locals and neighbors would be obsessed by what one could have correctly argued was "preventable" carnage. And, yes, nine months later, there was plenty of furor at "them". So who are they, as was once asked in The Wild Bunch? (Lyle: "They? Who in the hell is 'they'?)
"They" are California and federal elected officials and bureaucrats of various forest agencies. For four years plus, they knew that 60 million trees in the Sierra were long-dead or dying from drought or beetle infestations. In the normal times of four decades ago, a robust timber industry would have harvested the dead firs, cedars, and even the pines, cleaning up the forest to prevent conflagrations like the Creek Fire, providing a lumber-short nation (cf. the price of 2×6's and plywood recently?) plenty of harvestable lumber, and providing good-paying jobs in often economically depressed foothill communities. But remember, in California anything that seems win-win-win must now become lose-lose-lose.
So when I talked to neighbors all of that frustration came up. Why would the government allow 60 million trees simply to rot and serve as green napalm? To destroy the timber industry (which is all but destroyed in the California)?
To discourage humans from living "unnaturally" in the forest and foothills? 
To allow "nature" to have its way as in the age before man? To enrich the "ecosystem" by allowing tree "mulch" for the food chain.?
I have read versions of all the above in the lunatic California papers. 
Our conversations then turned to "who started the fire," since D-Day, September 4, 2020, was not marked by thunderstorms or lightening, although that fact does not completely rule out a natural cause. 
Earlier rumors, recycled in The Fresno Bee, had spread that the cause was marijuana growers—or was it gang members or even terrorists, or laxity on the part of authorities? And on and on. Nothing has surfaced from a 9-month "investigation"—and most mumbled that the cause, as is America's wont these days, will be massaged by political considerations rather than the simple truth.
Then we talked about the vagaries of the fire: how mini-firestorms and whirlwinds that uprooted huge trees and destroyed 20,000 acres and more a day, at the fire's worst, might inexplicably spare one cabin, and yet devour another just a few yards apart. 
But throughout the day, I was struck that most of the conversations were about shortages, of affordable lumber and labor. Many were eager to rebuild. But there was no one to hire, and now one could hardly afford—in the middle of a forest with tens of thousands of charred but useable trees for miles on end—to buy plywood or framing wood. All were rebounding. but bewildered that a can-do American can't do, because the able-bodied are not looking for work and the stuff of our civilization, wood, gas, cement, dry wall is hard to come by at an affordable price. It was sort of like being short coal in the middle of a coal mine.
We rode bikes through the remains of the inferno today and saw below that some were launching boats, in a lake gulping down the last runoff from a drought-plagued limited snowpack that will be all but dry by September. 
Some were fishing. Some were putting in power poles and stringing high voltage wire. Some were cleaning up the messes around their charred homes. 
I looked at the acres of charred ground and saw grass, and weeds. And then, as expected, I saw a three-inch green pine. Where did this piney fellow come from? Sort of audacious to sprout up just months after the inferno, and beneath 60-foot charred trunks?
I remembered that famous introductory speech from As You Like It (adapted from Juvenal, sort of): "All the world's a stage" And all the men and women merely players; They have their exits and their entrances…."
And then I thought that's not quite it, but perhaps more instructive is another more famous thought from Ecclesiasticus: 
To everything there is a season, and a time to every purpose under the heaven: 2A time to be born, and a time to die; a time to plant, and a time to pluck up that which is planted; 3A time to kill, and a time to heal; a time to break down, and a time to build up; 4A time to weep, and a time to laugh; a time to mourn, and a time to dance."

King James Bible
Or as Heraclitus wrote, panta rhei: "All things flow." And the river runs on" "and no man ever steps in the same river twice." And so even the fires cannot consume us all, and after they pass, life returns—sort of.