by Terry Scambray // New Oxford Review, May 2014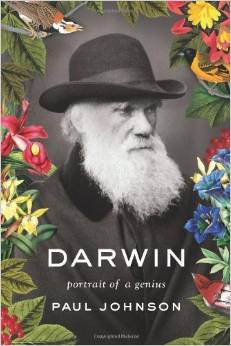 It is a measure of the cultural contamination of materialism, given great impetus by Charles Darwin, that even a giant like Paul Johnson can be infected and attenuated by it. For Johnson is one of the magisterial writers of our time whose erudition and immense energy have enlightened so many of us for so many years. Yet this biography is a disappointment in contrast to most all of his previous work. Indeed it is unfortunate that Johnson did not apply his wit and critical talents, as shown in his masterful Intellectuals, to his present subject, Charles Darwin. Oh, what a penetrating study it would have made!
Despite my predilections, Johnson moves in the opposite direction in this book, attempting to lay on yet another coat of bronze to the iconic figure of Darwin. But like all carriers of what Raymond Tallis calls Darwinitis, Johnson never gets around to explaining exactly what was Darwin's genius. Though there are plenty of sputtering attempts at it, all that the book presents are the usual empty generalities about "Darwin the scientist" and "Darwin the humble self-critic" in addition to the conventional contradictions and misunderstandings about Darwin's ideas.