The president put politics and ideology ahead of preserving hard-won gains in the region. 
by Victor Davis Hanson // National Review Online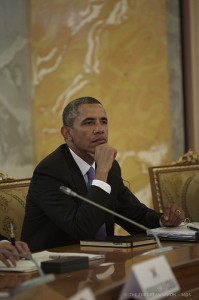 In his first term, Barack Obama all but declared victory in America's Middle East struggles.
As he precipitously pulled out all U.S. peacekeepers from Iraq, the president had his own "Mission Accomplished" moment when declaring the country "stable," "self-reliant," and an "extraordinary achievement."
Those claims echoed Vice President Joe Biden's earlier boast that Iraq somehow would prove Obama's "greatest achievement."
After the death of Osama bin Laden, and during Obama's reelection campaign, the president also proclaimed that al-Qaeda was a spent force and "on the run."
But what exactly was the new Obama strategy that supposedly had all but achieved a victory in the larger War on Terror amid Middle East hostility?
Fuzzy euphemisms replaced supposedly hurtful terms such as "terrorism," "jihadist," and "Islamist." The administration gave well-meaning speeches exaggerating Islamic achievement while citing past American culpability.
We tilted toward Turkey and the Palestinians while sternly lecturing Israel. Military victory was caricatured as an obsolete concept. Leading from behind was a clever substitute.