Faster, please: A great pushback is awakening here and abroad, but its timing, nature, and future remain mysterious. 
by Victor Davis Hanson // PJ Media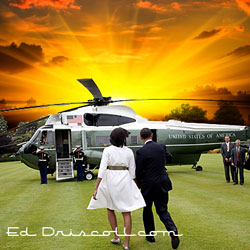 Given European socialism, and given its therapeutic culture that assumes morality is relative and situational, it is quite stunning — especially to the Greeks — that suddenly debts are to mean not endless negotiations, haggling, blame-gaming, and contextualization, but are reduced to something akin to Calvin Coolidge's snarky alleged quote, "They hired the money, didn't they?"
Aside from the threats of Vladimir Putin and the wobbling of the European Union, Europe is being overrun with illegal immigrants from Africa, Asia and the Middle East. Once an impoverished foreign national arrives at any European shore, the European Union, either out of utopian piety or colonial guilt, feels obligated to accept him, without questioning much his legal status or the reasons for his arrival — much less why it should not extend such magnanimity to tens of millions of others who may well follow.